As fellow navigators of the customer service domain, I'm keenly aware of the intricate balance you master daily. Your expertise and commitment to excellence are commendable—qualities that have undoubtedly earned you a prominent seat in the realm of contact center management.
In our dynamic landscape, where the connection between employee experiences and customer satisfaction is undeniable, your role shines with significance.
Do you recall the time when contact center agents fielded simple, repetitive calls? Presently, those tasks are seamlessly handled by I.V.R.s, Chatbots, and other advanced tools.
Yet, the artistry of tackling complex, meaningful conversations remains a quintessential human touch—one that we, as experts in this field, understand on an intrinsic level.
Should you resonate with my journey as a contact center leader, you're well-acquainted with the notion that customers rarely dial in to express contentment. When they do, it's a cause for jubilation—a testament to a job exceptionally done.
This brings us to the crux of the matter—what truly differentiates our customer service?
The answer lies in how our adept agents navigate the nuances of challenging conversations, rebound with unwavering positivity, and arm themselves to consistently deliver excellence.
In a landscape brimming with strategies to nurture this engagement, one stands out as remarkably potent—gamification.
«Why gamification?» you might ask.
The answer is multifaceted, stemming from our shared understanding of human psychology. We thrive on recognition, on the acknowledgment of our actions and behaviors. Instant feedback, an integral facet of gamification, caters to this innate desire. Whether through badges that proudly display achievements or auto-awards triggered when agents surpass performance benchmarks outlined by supervisors, it's all about celebrating triumphs. Even subjective assessments, accompanied by personalized notes, come to life.
This leads us to the introduction of Motivarnos—an offering meticulously crafted by contact center experts, for experts like you.
When complexities arise in recognition strategies, when the choreography of performance management feels elusive, or when the pursuit of quantifiable outcomes feels like chasing the wind amid the daily fray—Motivarnos emerges as your solution.
Imagine the power to:
– Amplify Engagement: Fuel your agents' motivation through tailored recognition strategies, igniting their determination to outperform.
– Data Enlightenment: Gain newfound clarity into performance metrics, transforming data into actionable insights.
– Rapid Implementation: Experience a comprehensive gamification, recognition, and performance management plan crystallizing within a mere four weeks.
– Ongoing Expert Support: Benefit from our team of skilled contact center aficionados, united by a shared passion and commitment.
And here's the intriguing aspect: At just USD 7.8 per user per month—equivalent to less than two hours of an average monthly wage—you're tapping into a transformative solution that carries the potential to revolutionize your contact center's dynamics.
This, my esteemed colleague, is an opportunity that beckons. It's a moment where our combined expertise converges to shape a future brimming with possibilities.
I invite you to embark on a journey—one that commences with a conversation where we'll delve into the potential of Motivarnos. Let's explore how your insights and my experience can collaborate to elevate your contact center's prowess.
The anticipation of this exchange, marked by our mutual appreciation for contact center excellence, is sincerely exciting.
Until then, may your days be productive and your endeavors prosperous.
Warm regards,
Rodrigo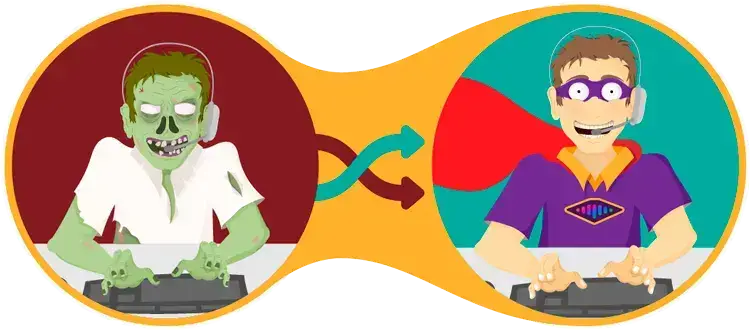 P.S.: I'm eager to bring our shared expertise to the forefront of a dialogue that holds the promise of transforming your contact center. Schedule a demo, and let's embark on this journey together. Looking forward to our imminent connection!